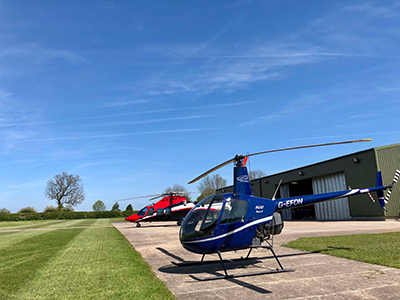 Learn to fly
yourself for fun or a career!
At East Midlands Helicopters we train pilots to Private Pilot Licence (PPL(H)) and Commercial Pilot Licence (CPL(H)) level, usually using the popular Robinson R22 helicopter. However, we can also provide training on the Robinson R44 or Bell 206 JetRanger.
Please be aware we do not charge membership or circuit fees. We also do not charge for landing fees with the exception of cross country navigation land aways (approximately £30 in total).
Why not check out our trial lessons to get you started?
Contact us to find out more!
---
Private Pilot Licence (PPL(H))
Requirements
A minimum of 45 hours flying instruction, which must include at least 10 hours flying as 'pilot-in-command'.
A valid EASA Class 2 Medical Certificate.
Passes in nine written examinations:

Aviation Law
Operational Procedures
Principles of Flight
Meteorology
Navigation
Radio Telephony
Human Performance
Flight Planning
Aircraft General Knowledge

Radio Telephony practical exam.
Cross-country navigation exercise.
Frequently Asked Questions